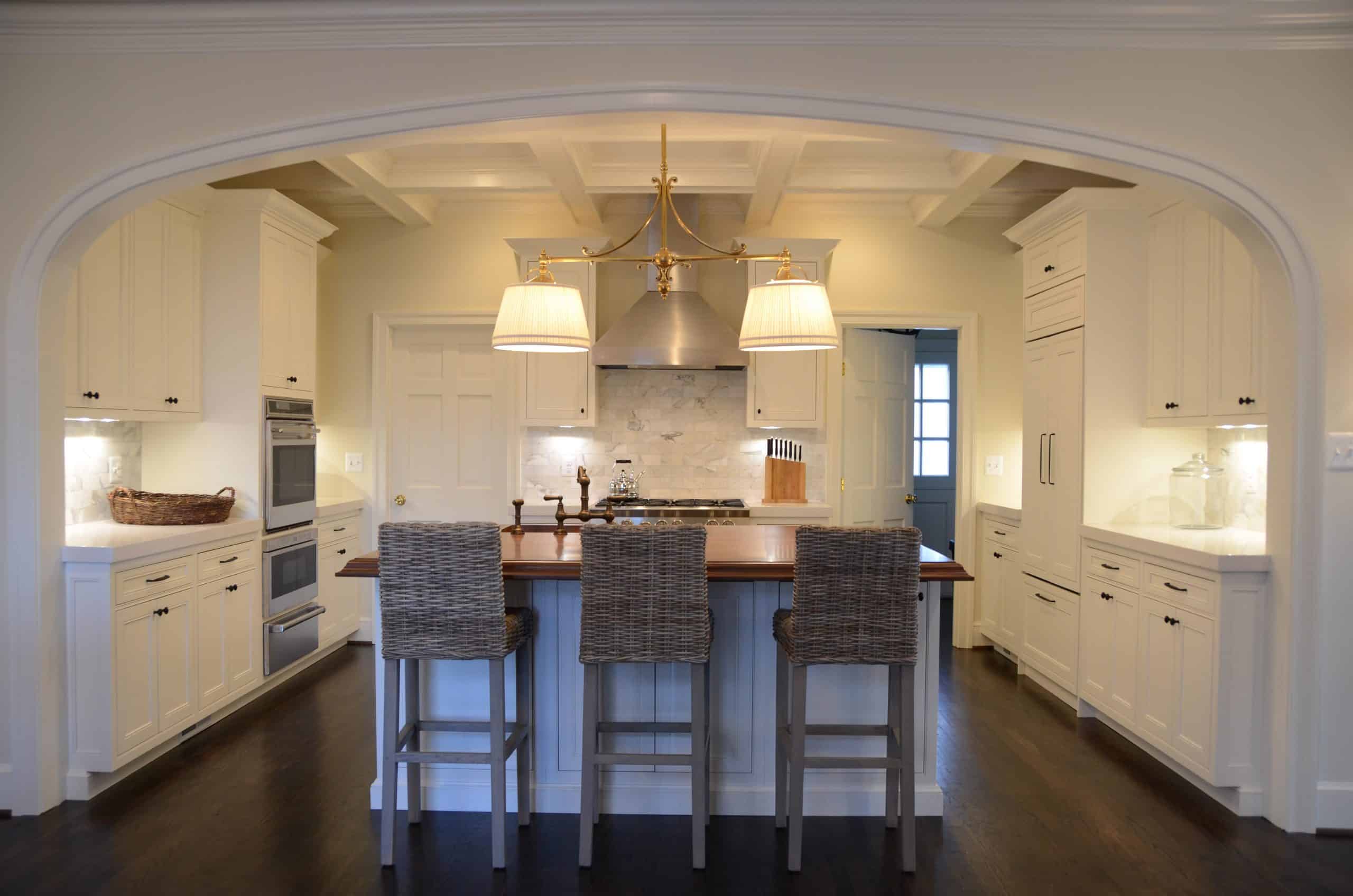 The kitchen is a loyal witness to any drama in life.
Over the years, the kitchen has gained popularity as the central, most important room in any home. It enjoys round the clock patronage. Starting from a very early morning breakfast to a late-night snack. The kitchen is a loyal witness to any drama in life. Whether preparing an important meal for family or friends, surprising a loved one on a special occasion or making a special dinner for the grandchildren, the kitchen is always there.
At Mast Builders LLC., we want your remodeled kitchen to be a perfect combination of good looks and effective functionality.   A kitchen remodel can take on so many forms of style, materials and color.  Let us be your partners in deciding what will work best for you. 
The award-winning kitchen shown above was built in collaboration with another contractor. When you walk in, you'll see an inviting archway over a warm, rich walnut island. Stunning white high-end cabinets and a gorgeous marble backsplash complement the richer wood tones. When paired with the refinished ebony-stained oak flooring and quartz countertops, the whole kitchen comes together. The stainless-steel range hood, inset microwave and oven, and discreet paneled refrigerator provide the ultimate combination of luxury and utility, making the kitchen as functional as it is beautiful.
Everyone who sees this next Kitchen Remodel will say that and we couldn't agree more.
Everything was laid out according to the ceiling. A two-piece crown coffered ceiling with an extra piece of trim on the bottom. The box above the island is the same size of the island. There are three recessed lights in this main box and then two hanging lights. The walnut counter top adds a really nice decorative appeal.
In the pictures that follow, you will find first a whole kitchen remodel with an elaborate coffered ceiling.  The coffered ceiling was laid out for the cabinets and the island. This kitchen has white cabinets, marble countertops, LED lighting above the counter and inside the glass door cabinets, a walnut countertop on top of an accent color island. The second is of a kitchen pantry with walnut cabinets. This pantry has great storage with an extra sink and an extra dishwasher so you can entertain any size crowd.
Kitchen remodeling is one of the biggest and most important changes in every home. It reflects the homeowner's dreams, needs, style, and wishes. The perfect kitchen remodel project has a well-balanced design so it fits everyday usage.